Areas of usage:
Arterial Insufficiency Ulcers
When is NPWT contraindicated?
Underlying osteomyelitis.
Necrotic tissue (slough or eschar)
Exposed internal organs (for example Intestines, blood vessels / vascular grafts/ suture junctions etc)
How does NPWT promote wound healing?
Negative Pressure Wound Therapy is the latest in  wound care, which uses subatmospheric pressure.
It  increases blood flow to the wound (better blood supply means, quicker healing) and good blood supply brings antibiotics to the wound along with body's own healing mechanisms.
Sucks out wound discharges and  bacteria which otherwise impair growth of granulation tissue in the wound. (Good granulation, means better healing)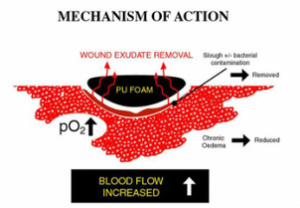 By removing excess (unwanted) fluid, reduces tissue edema and improves tissue oxygenation.
Perfusion of blood improves towards the wound
Stimulates and promotes healthy granulation tissue formation
Encourages wound contraction and expands the surrounding skin
Maintains a moist wound environment